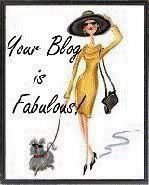 What a wonderful surprise from http://acozylittleplaceforstitching.blogspot.com/">Lynda/a>>
Lynda has tagged me with this Fabulous Blog Award and now I get a turn to pass this on to 5 of my favorite Blogs! 5? Wow, this will be a tough choice! But here goes and I am supposed to list 5 of my favorite things to do too! So pass this award on to five of your favorite blogs if you'd like too!
1.Paulette http://plumstreetsamplers.typepad.com/plum_street_samplers/">Plum Street Samplers/a>>
2.Bronny http://bronnysbits.blogspot.com/">Bronnys Bits/a>>
3.http://stitchintimesfive.blogspot.com/">Lori/a>>
4.http://crossroadsofmymind.blogspot.com/">Pam/a>>
5.http://marysstitchingworld.blogspot.com/">Mary/a>>
Now for the 5 favorite things to do:
1. Kissing and hugging my grandbabies!
2. Stitching of course!
3. Taking an afternoon nap!
4. Play with dying my own fabby & floss!
5. Thrift Store shopping for gems!
Ok I really need to go to bed now!!! LOL Good thing I get to sleep in!