Well, I am not posting as much as I'd like too and now have some catching up to do!
I was blessed with a surprize visit by my very pregnant daughter and my 21 month old grandson last week. Her hubby has been very protective about keeping her close by as I live about an hours drive from them, but with strict rules to call him the minute she shows any signs of labor, and he was ok to leave them here for 3 days! Yay! Now that my eldest has married and now almost a mommy of 2 of the most beautiful grandbabies ever! LOL I am a lil' bias! We now get along so well, compared to her teenage years of H E double hockeysticks! HA! And even better is that I have finally hooked her on cross stitching so we have that love to share as well, and she always tells her hubby...."I need to go stitchy shopping at Mom's house" LOL She likes most of the charts I do, so it works out! And when I tell her there is now way I could ever stitch everything I have....her reply is..."Thats ok Mom, I will get it when you're gone" LOL Hello...am I going someplace! Hehehehe She was joking of course....this is the daughter who fought me every minute of the day for 17 years! And now she calls me 2-5 times a day! Sometimes just to tell me something funny my DGS did or even sometimes the gross things he does! I laugh and tell her its only going to get worse now with the second one almost here, My DGD is one day late now, due date was the 10th of Febuary, but then she was a week late with her first! I think shes staying where its safe from her wild big brother! LOL
So I have had 4 more finishes since my last post, though they are smaller finishes, they still count! LOL
This first one is #4 finish of 2009 and is by Midnight Stitching called Faith Hope Love-stitched on 25ct over 2 with sampler threads called for. This chart,fabby & thread was a Secret Sister Gift this last round! I just Love it!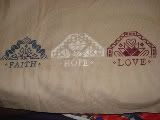 My # 5 finish is a freebie called Love Letters you can find Here

My # 6 finish is also a freebie by Erica Michael, but cannot for the life of me find it again! LOL
And ta da, my # 7 finish is also a freebie called French Inspired Hearts you can find
Here


and there a few more freebies listed there too!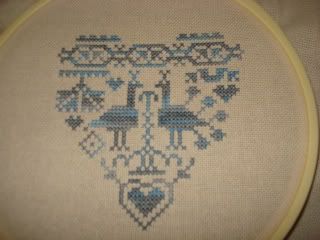 This last finish was my very fist time using Vikki Clayton silks-color is Old Blue Eyes, and it was such a treat to stitch with. My previous hatred of silk in general is now gone, because this silk slides so easilly and rarely tangles, made stitching this so fun and quick, and I totally love the results of the color variations! Looks like I just might have found a new thread to use! LOL Like I needed it! Hehehehe
Well now that I have caught up on sharing my finishes, I am off to make more to share! How fun is this? Until next time, hugs and stitches to you!