Last night was a good night as I finally finished up PSS Morning Bird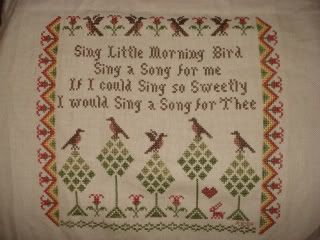 This is my #3 finish for 2009! Wow even I am impressed with myself! But then I don't have much of a life, so I stitch with all my free time! And of course as much as I can when my pain is under control for the time! I stitched this PSS design over 2 threads on 28ct mushroom colored evenweave, with DMC floss! I can't wait to get this framed and up for everyone to see, I really should start framing my finishes, if I did I could probably fill a couple of walls! Yeah, its been awhile since I framed , I just keep adding the finishes to my very full tub I have just for them!
I had enough fabby left over from Morning Bird, so I started Midnight Stitching Quaker Faith Hope Love design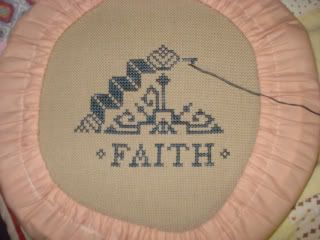 I received this chart, fabby and Sampler Threads from my secret sister Donna)thank you again!) I hope she sees my blog so she can see my stitching!
I also wanted to share a few pictures of my kitties, as they lounge and nap, only to be disturbed by me trying to snap a picture of them! LOL I want to come back as a cat in my next life! I think I already have the napping part down! :)
Here is Jinx, she was actually sleeping in the "cat bed" , go figure! LOL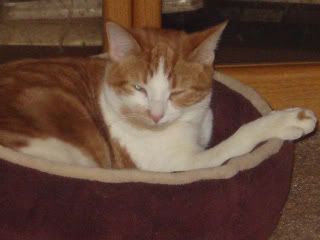 And here is Peek-a-Boo, I bothered him while lounging in "My" bed?? Or is it his bed? LOL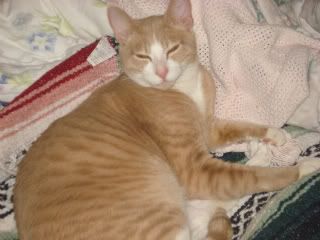 And last but not least, is Samantha, who unless she opens her eyes, she is just a blob of black! The picture makes her look like an alien cat! Wonder what happened while I wasn't here? LOL
Ok, well I am off to stitch a bit more before bed, and I may just have another finish to show off tomorrow, as this quaker is stitching up quickly!